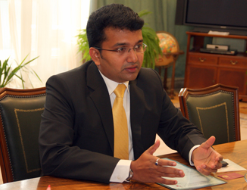 ---
President Indian Alumni Association of Peoples Friendship University of Russia E-mail :
president@arudn.com
Indian Alumni Association of Peoples Friendship University of Russia IAP members are on the leading edge of innovation, scholarship, and solutions that contribute to the nation's economy, security, and well-being. Peoples Friendship University of Russia was established in 1960 and till 1992 was called Peoples Friendship University named after Lumumba. University has been rated among the first five best Universities of Russia for the last decade. One of our main assets is the possibility of getting more than one degree: a degree in your chosen profession, one or two degrees in foreign languages and a degree in second higher education. You meet representatives of 130 countries of the world. We are molding intellectual elite, future leaders for India and other countries worldwide.
IAP programs and projects address institutional issues facing its member, as well as government actions that affect the members profession and career. IAP maintains the productive partnership between the nations research universities and the federal government. The major activities of the association include federal government relations, policy studies, and public affairs.

Membership in the association is by invitation. Aspiring member of IAP should be a citizen of India and should give details about the passed out year and specialty. IAP will verify the details with the university and will approve the membership. All the members will get news updates from the university and various meeting and conferences of alumni in India. Life members will be invited for the Annual Alumni Meeting The Rhytm of Unity by IAP.